Meet Board Member Liz Stinaff!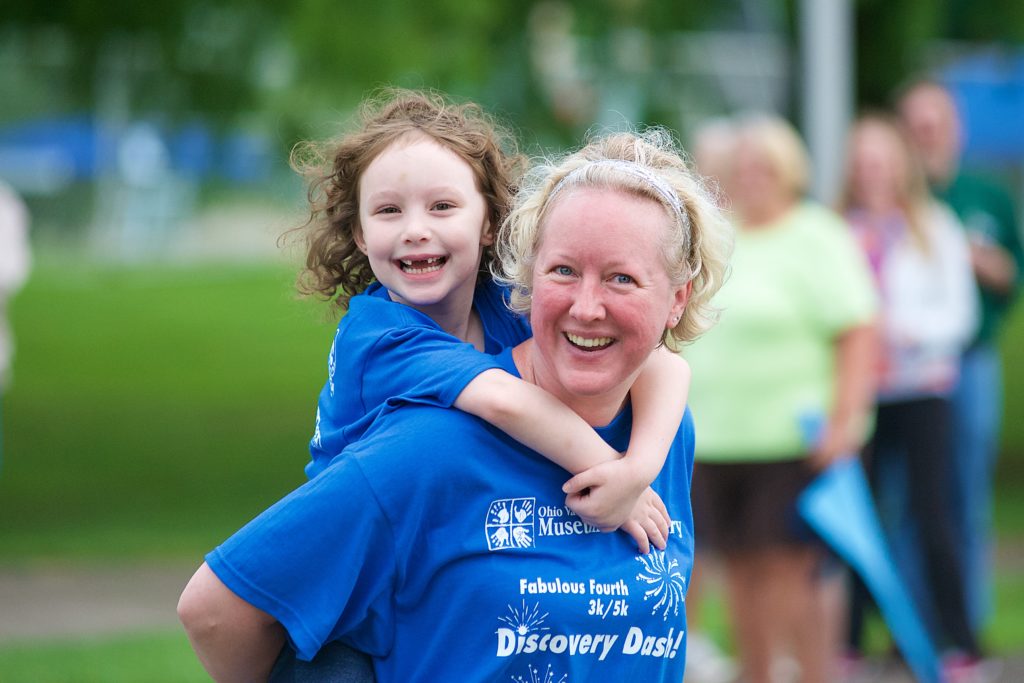 Hello! My name is Liz Stinaff. I am a small town Iowa native and lived in Washington DC for three years before moving to Athens twelve years ago. My husband is an Associate Professor of Physics at Ohio University. We have four children: Seraphine, Sebastian, Quintus, and Dorian. Can you guess the theme to their names? Read on and you may discover the answer.
How did you get involved with OVMoD?
I first discovered the museum while walking through the mall with our daughter and newborn son. It was such an amazing place to explore, play, and socialize that we added it as our weekly outing. I soon learned Christie Truly was part of the OVMoD board. She and I met while participating in Leadership Athens County.
What is your favorite museum exhibit/program?
The museum hosts a wonderful array of exhibits and programs that it's hard for me to choose. Two exhibits which stand out in my mind are Green Machine and Igloo. Green Machine was built and designed by Warren High School students under the guidance of Larry King. The machine combined human, solar, and kinetic energy to foster a hydroponic garden with the use of a fish tank. It was so inspiring to see young minds come together to repurpose old materials into something new. The igloo was built using recycled milk jugs brought in by community members. We loved seeing the transformation every week from a single row to the final result. The igloo took on a transformation after the exhibit was over. A wonderful local artist, Kasey Jones, repurposed the jugs into amazing jellyfish sculptures to create a commissioned participatory installation for Artscape (National Aquarium, Baltimore).
What other museums do you enjoy?
Our two oldest children love going to COSI. They enjoy the different rotating exhibits (big machines, trains), exploring the space capsule, Little Kidspace, and so much more. It's fun to see them explore and discover something new each time we visit.
What do you like to do in your free time?
I love having deep conversations with my husband. One conversation that comes to mind is "do you think someone else could have composed the exact same melody or symphony as Beethoven (and others) did?"
What do you like about our region?
We live in a very unique region! From the university, to Stuart's, to festivals, to the hills of Appalachia, this area boosts some of the greatest experiences!
What makes you curious?
It is such a joy watching our kids grow. The things they say and do are mind blowing at times! I love their creativity and empathy for others and wonder often, where did they come up with this idea?
Who is your STEAM idol?
I am a music lover by nature and met my husband while playing violin with the Central Iowa Symphony. There is just something about music that moves the soul: National Anthem, hymns, Tender by Blur, La Vie en Rose by Louis Armstrong, songs by Pink Martini, 1812 Overture, 5th or 7th by Beethoven, Pictures at an Exhibition, New World Symphony, Four Seasons, etc. For me, it's not the words that accompany the song, it is the music itself.
What is your favorite season?
The holidays are my favorite season, especially July 4th, Thanksgiving and Christmas. These holidays bring back treasured memories of family get togethers, cousin time at my grandparent's house, watching the fireworks from the football field, singing Christmas hymns, putting together puzzles, traveling, and catching up with relatives.
What are your hopes for OVMoD in the future?
My hope for the future of OVMoD is to be a space that evolves and changes to serve the communities in this unique region. A space where discovery is accessible to all. A space to be yourself. A space to create, learn, discover, change, and reinvent an idea into something new. A space to engage families and individuals. A space out in the communities bringing discovery to you whether it's at your local library, school, or festival.
Thank you for being a part of OVMoD, Liz!